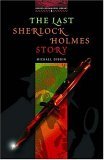 The Last Sherlock Holmes Story by Michael Dibdin
My rating: 3 of 5 stars
Hmmm… I am not sure what to make of this book – I have read other reviews and well they are very mixed and that is my opinion of this book – mixed.
There was parts I thought were great. Holmes as narrator was particularly well written and I actually enjoyed the locations and the time period. I actually really liked the concept of this book with Sherlock on the hunt for Jack the Ripper and trying to decipher if Jack was actually arch-nemesis Moriarty.
Onto the bad, I did feel the detective's classic sleuthing was glanced over. I missed the dry sarcasm that is associated with Holmes, apart from one paragraph criticising Doyle's interpretation of a Holmes case at the beginning this wit was missing during the book. Towards the end I must admit I did stop enjoying the plot of the novel to some extent, it's difficult to go into details without giving away the plot but I was a little disappointed.
It was a short-novel and quite easy to read in one or two sittings. The writing was good, the characters were mostly kept true to form, the time-period was really well adhered to and the concept was excellent. A good attempt at a classic. Good for a short quick read, not the book for a die-hard Holmes fan.