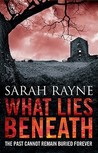 What Lies Beneath by Sarah Rayne
My rating: 4 of 5 stars
This book contains the usual mysterious historical fiction and modern day interlinked storylines that Rayne seems to do brilliantly, it isn't quite as dark and unnerving as some of her other standalone novels (such as House of the Lost), but certainly darker than her Nell West series.
In the modern storyline, we go with Ella Haywood who finds out the town from her childhood is to be re-opened for a short while prior to being cleared for new motorway bypass. This is the talk of the town and soon Ella gets very jittery and no-one including her granddaughter knows why. Ella's behaviour becomes more and more obscure and no-one around her knows why.
The historical storyline was very interesting. The story switches back to 1912 where we meet the Cadence family of Cadence Manor in the village of Priors Bramley, mostly through a series of journals – author initially unknown. We also flashback to Ella's childhood and an incident on the day the village closed.
Other reviewers have complained about Rayne's writing style in this and I do agree with some of the comments (e.g. it is quite slow in places). There are four storylines in this book and it is quite complicated how it is held together. Normally Sarah Rayne's writing style is much sharper, darker and more dramatic. However, I did enjoy the storyline non-the-less. Also, the main character in this book Ella is not very nice, normally Rayne has a really strong protagonist who you champion throughout the book whereas this character isn't. I did enjoy Rayne's experimentation with this technique but I think having a main character that you dislike isn't always an easy sell to other readers.
Overall, I still really enjoyed this book, not as good as others she has written but still very clever, particularly the historical storylines. For those that haven't discovered the Sarah Rayne's writing, I would suggest these novels are quite similarly written to Phil Rickman's work; old story exposed, great characters and slightly eerie. Although the dark dividing (standalone novel) is my favourite out of her books. The Nell West series she writes is also very good. This is more of a 3.5 from me but as that option isn't available and a 3 felt very mean I gave it a 4.
Please leave a like if you think my review/feedback of the item was helpful to you. Alternatively, please contact me if you want me to clarify something in my review.