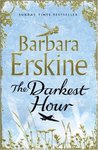 On this day… 10th August, 1944 – Barbara Erskine born
KL Caley: I have been looking forward to today's post and introducing today's writer for a while. Barbara Erskine is one of my favourite novelists. I regard her novel Lady of Hay (first published in 1986) as a modern classic. A novel I like to re-read every few years.I was so pleased to be able to visit it's setting Hay-On-Wye earlier this year. Read my review of Erskine's latest novel "The Darkest Hour" here.
Barbara Erskine (born 10 August 1944 in Nottingham) is an English novelist. A historian by training, Barbara Erskine is the author of many bestselling novels that demonstrate her interest in both history and the supernatural, plus three collections of short stories. Her books have appeared in at least twenty-six languages. Her first novel, Lady of Hay, has sold over two million copies worldwide. She lives with her family in an ancient manor house near Colchester and in a cottage near Hay-on-Wye.
Did you know?
Erskine's father flew a spitfire during the Battle of Britain. This was the inspiration behind Erskine's latest novel.
On Writing