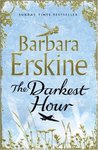 The Darkest Hour by Barbara Erskine
My rating: 5 of 5 stars
As a long-time fan of Barbara Erskine I would struggle to give any of her novels anything other than five stars and this novel is no exception.
Lucy is an art critic desperate to know the story of a famous female war artists, her research leads her to discover the artist was ensnared in a tragic love triangle. With the war going on in the background we meet the lovelorn Evie (an exceptional female artist trying to make her fame in the artworld), her on again off again boyfriend Eddie (a basic bland individual but with entrepreneurial connections he could offer Evie her art dreams), and the handsome stranger Tony (with boyish good looks, classic charm and the promise to make her his wife, he instantly steals Evie's heart). Together they face a dangerous world, were young men lose their lives every second, so who will Evie choose? Lucy is desperate to find out.
Barbara Erskine is a historian by trade and you can truly sense this in her novels, the details and dedication to historical facts she manages to include is incredible. She manages to depict timelines, places, characters and their attitudes to the historical events taking place so creatively. The fact that she manages to weave a little of her own family history into this novel makes it all the more endearing.
2015 is the 70th anniversary of the Second World War, making it the perfect year to read and celebrate with this fictional novel that manages to capture a glimpse into what life was like for those farming families left behind.